Why are digital technologies used?
Find out about why digital technologies are being used.
Health and care have long had an agenda for digital transformation, with a range of work happening in this field. However, the global coronavirus (COVID-19) pandemic accelerated the use of digital technologies across health and care education and practice, particularly in universities who had to quickly adapt their teaching approaches.
Digital platforms, accelerated through the learning from coronavirus pandemic, empowers healthcare professionals to access high class medical education from leading authorities, without the constraint of a classroom setting.
Member of professional group/regulatory body
There were many benefits and advantages described from introducing digital technologies into education, but equally there was citing of poor experiences from receiving or delivering learning using digital technology. These existing tensions must be fully explored and carefully managed, both locally and nationally to ensure the quality of learning is not negatively impacted.
Safe environments
One of the key benefits to using digital technologies identified by participants was the ability to create safe environments where students were able to use technologies such as simulation and virtual reality (VR) to develop clinical patient skills. This minimised risk to the patient, allowed for repetition (building familiarity memory) and increased student confidence. Additionally, students could experience both standardised patients and exposure to uncommon cases, allowing them to develop new skill sets. By building technology into learning, students are better prepared for future working environments.
Case study 2: Developing confidence in clinical technology

Stewart Rickels is the Head of Simulation for the Faculty of Health and Social Care at the University of Chester and a nurse by background. Stewart and his colleagues are introducing a wide range of digital technologies, not only to enhance learning, but provide cost effective solutions in place of purchasing expensive clinical equipment.

With multiple practice partners in the surrounding area of the University of Chester, there were naturally occurring variances in clinical equipment being used by each practice partner, which they needed to represent in simulation-based education. The university have adopted cost effective app-based solutions which run on simple tablet devices. One of these applications creates a patient monitor which can be controlled by a second tablet, allowing learners to interpret vital signs as they would in real clinical settings, whether this be using a patient simulation (mannequin) or by incorporating simulated patients (standardised patients). In addition, a second generic tablet was linked via Wi-Fi to control the ventilator/patient monitors settings, functionality and patient parameters. The use of generic touch screen devices allows simulation-based education to utilise technology to expose students to the basic skills of setting up and using ventilators. This has been achieved without the need to purchase highly expensive clinical equipment where high maintenance and consumables costs can occur. The app-based products have allowed the academic team to represent different functions of equipment through the app-based software, meaning students are able to become familiar with multiple equipment types before entering a real clinical environment.

The tablets used for the app-based solutions are mounted on clinical trolleys to increase clinical realism. Stewart's team are in the process of producing a 3-dimensional (3D) printed box mounted on the clinical trolley to take the experience even further, simulating the hardware by providing multiple ports for ventilation, electrocardiogram (ECG) leads, saturation probes, and blood pressure. This additional functionality allows learners to physically attach and detach hardware allowing the students to physically engage with the equipment whilst interacting with the app to understand how to set parameters and interpret findings.

Contributor: Stewart Rickels, Head of Simulation, Faculty of Health and Social Care, University of Chester.
Within healthcare education, we need students to be able to practice, make mistakes and then learn and repeat as often as necessary in a safe environment, both to themselves and their patient groups. The use of digital technology allows for that repetition as often as required, both for individual learning and peer and group learning.
Staff at higher education institution (HEI)
However, concerns about this experience dehumanising practice were identified as themes in at least 28 responses in the survey. It is felt that simulated patient interactions should not replace clinical experience, but should instead be used to enrich health and care education.
It is essential to consider that digital technology has its limitations compared to real world experience and face to face patient contact which must always have a place in education for delivery of patient care.
Member of professional group/regulatory body
For many students, the experience of clinical placement is significantly changed when it is predominantly online because it can be socially isolating and less enjoyable.
Detracts from the human element of clinical care. Students are reporting up to 70% of some days in the office when they were expecting to come into a placement and interact directly with patients. They have not wanted an office-based job. Of course, the patient interaction element happens but it can feel limited on some days and thus the Placement is less enjoyable.
Staff at HEI
There was a strong emphasis in the focus groups on ensuring clinical skills are not lost through using digital technologies in health and care education. One participant argued that digital skills could not be developed without first having clinical skills.
Need clinical skills to be digitally competent - a lot of students are not.
Participant from focus group
Case study 3: Using simulation to enhance competency and practise in safe environments

A major patient safety challenge is the ability of nurses and other health professionals to recognise and quickly respond to a rapidly deteriorating patient, since early warning signs are often not detected in a timely manner. Nursing students typically learn the skills for early identification through clinical placement, but clinical placements are not guaranteed to provide exposure to deteriorating patients.

Dr Nita Muir is part of a multi-national simulation research network who wished to explore the impact of a virtual simulation intervention on the ability of undergraduate nursing students to enhance recognition and response to a rapidly deteriorating patient.

The study involved 88 third or final year undergraduates from 5 Universities (Canada, England, Scotland, Australia), segmenting half of the group into a treatment group and half into a control group. The virtual simulation cases included in the study focused on patients experiencing the acute deteriorating medical/surgical health challenges including cardiac arrest, anaphylaxis and blood transfusion reaction.

The use of virtual simulation had a significant effect on improving students' knowledge in the recognition and response to a rapidly deteriorating patient. Students reported the simulations decreased anxiety, helped them prioritise, filled gaps in their learning and encouraged autonomous learning in a safe 'low risk' environment.

Dr Nita Muir has introduced the use of digital technologies into nursing education during her tenures at the University of Brighton and now the University of Chichester and outlined the importance of using digital technology as a meaningful steppingstone to enhance and enrich the learner experience, supporting the learner to develop their skills and confidence by developing familiarity memory, and not as a method to replace practice learning through placements and real-life experiences.

Contributor: Dr Nita Muir, Head of the School of Nursing and Allied Health, University of Chichester.
Resources
Another potential key benefit identified in the survey was improved resources. This is in terms of time, effort, and cost. But resources such as infrastructure may not be able to meet the demands of digital health and care education.
It was noted by one participant in the survey that using digital technologies holds the potential to reduce replication of effort.
Reduced replication of effort, particularly with regard to audit on placement areas.
Member of professional group/regulatory body
This is a significant benefit if collaboration becomes more common because lack of time available to staff and higher education institutions (HEIs) and Practice Education Facilitators to produce digital resources was frequently mentioned in both the survey and the focus groups as a negative of digital health and care education.
During the focus groups, the ability to collaborate across organisations to share learning and create a space where clinical meets the digital community was discussed as a need in this area. However, it was also noted that many of the systems are not currently integrated or cannot communicate with one another which limits progress in this area.
Some of the challenge is that there are so many different systems and processes that can be a challenge for clinical staff who are supporting learners from many HEIs.
Participant from focus group
Participants identified a need for consistency in the platforms and systems being used, in addition to a common language. This links to the concern about terminologies and the lack of consensus around defining digital technologies.
In terms of infrastructure, many survey participants noted that university infrastructures for digital technologies are often outdated or unbalanced across health and care environments.
With the best intentions, staff and students are willing to embrace digital technologies but if the infrastructure and funding is not present then they can't be embraced.
Staff at HEI
Therefore, there is a need to improve the infrastructure available to students to increase engagement with digital technologies. However, this will be challenging as participants in the focus group said that it was difficult to keep up with the volume of technology being released and often technologies are too complex for staff to use and teach, given the lack of existing basic digital skills. One participant noted the following.
...we need to choose tech that fits the outcomes we want to achieve - rather than rushing in with a tech first mindset.
Participant from focus group
It is evident that understanding why we are using the technologies is key to implementing them effectively.
Learning experience
Another key benefit identified in the survey was an improved learning experience and increased student satisfaction for students who are using digital technologies to support learning. This is in terms of adaptability and flexibility of learning.
Positives: Much greater flexibility to allow students to learn at their own time and pace. Access to a much more diverse range of resources. Learning things using different modalities.
Student
Case study 4: Using technology to experience the patient perspective

The University of Chester are using technologies to expose students to the patient experience, giving them an insight into what it's like to experience a health issue and receive care.

Students can experience arthritis or tremors via simulated suits and feel the limitations of an aging body when trying to grip, lift or move. Virtual Reality headsets are used to simulate psychosis episodes, creating an accurate atmosphere and perception as to the reality of mental health conditions, such as schizophrenia.

Contributor: Stewart Rickels, Head of Simulation, Faculty of Health and Social Care, University of Chester.
Improved accessibility was identified as a theme in at least 87 responses. It was noted in the survey that digital technologies could improve accessibility by removing geographical barriers, allowing people to access education via a range of mediums, and providing the ability to watch recordings of learning sessions.
Digital technologies are also being used to enhance and support learning, but many students are not seeking out digital technologies to support their learning (Figure 12).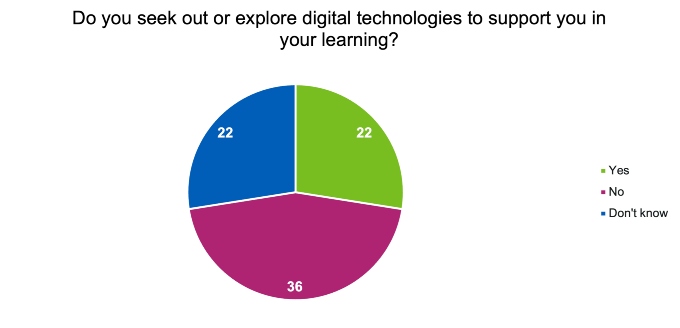 Many staff at HEIs and practice education leads feel that students are not actually engaging in health and care education when it is delivered online. They note that students often turn their cameras off, and it is harder to spot struggling students.
Students turning off cameras to improve WiFi speed. But then you can't see them. Posed a questionnaire to complete 10 mins from the end and didn't get 3 students' results, suspect they had gone elsewhere and left the session running.
Staff at HEI
This lack of engagement from students has the potential to decrease staff confidence in using digital technologies for health and care education.
While this is the case in some areas, there are others that have effectively used digital technologies to monitor student engagement with learning and be able to direct specific learning to address individual needs where there are identified struggles.
However, when staff from HEIs were asked if they felt confident in using digital technologies, many indicated that they either felt fairly confident or somewhat confident (Figure 13). This suggests that staff's confidence is not being affected by students lack of engagement. Rather, staff are frustrated by the lack of engagement and perhaps recognise that the benefits of the technologies on learning are limited as a result.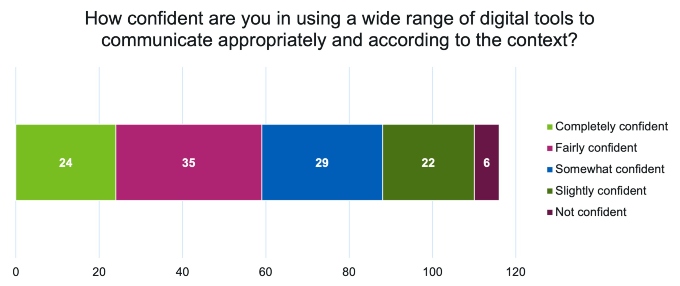 Accessibility
Finally, accessibility was identified as a key benefit of using digital technologies, as noted above. In addition to removing geographical barriers, online education reduces the requirement for physical spaces to teach.
Positives - Gives the student opportunity to learn at a slower pace and therefore deepens the learning opportunity. Better supports the less confident student. Requires less physical space that is a premium in primary care.
Practice Education Lead
This is particularly relevant in health and care where physical space is often considered 'premium'.
Case study 7: Using VR simulation to enhance capability and create resource efficiencies

Leisa Anderton is a lecturer at Sheffield Hallam University and joint departmental lead for simulation, digital and enhanced technology. As with many academic institutions, the coronavirus (COVID-19) pandemic led to a rapid step change in the delivery of health and care education, with Sheffield Hallam University no exception.

With final year students spending almost their entire academic year on placements, Leisa and the lecture team looked to simulation as a viable option, offering a highly experiential, realistic learning experience, even from the students' home. Oxford Medical Simulation (OMS) is a virtual reality nursing simulation, using artificial intelligence-driven (AI) patient behaviour and adaptive AI to create evolving scenarios in which students are required to communicate, examine, investigate, diagnose and treat.

Recognising the added value this technology would bring to students across all years, simulation was then embedded from the very first year, using a scaffold approach to introduce students to the foundations of health and care provision and exposing them to simulated clinical environments and equipment, before moving onto more complex scenarios requiring a higher level of cognitive skill and decision making.

OMS is now an integral pillar of Sheffield Hallam's learning delivery model, enabling students to enhance their practical skills and clinical experience ahead of real-life patient interaction, instilling a greater level of confidence, capability, and familiarity memory on a wide range of medical conditions.

As well as enriching the student experience, the use of simulation technology provided access for almost double the number of learners in comparison to face to face mannequin learning, with the university realising a 74% reduction in staffing time and estate costs (after 2000 hours of simulated learning on OMS).

Contributor: Leisa Anderton, Lecturer and Joint Lead for Simulation: Digital and Enhanced Technology, Sheffield Hallam University.
However, digital poverty can mean access to digital technologies is uneven. Digital technologies are often expensive, and during the focus groups it was identified that many students do not have private spaces or the right environment to access digital technology in a safe and secure way.
Access to hardware creates social divisions between wealthy students that have good devices and poorer ones that don't.
Practice Education Lead
A student had to defer for a year because they didn't have a high spec enough laptop to go fully virtual during lockdown.
Participant from focus group
In the focus group, it was noted that many students also experience technical issues, such as a lack of access to good quality Wi-Fi, and do not have exposure to digital technologies in the first instance, which means they are unfamiliar with them when they encounter them on placement. One participant noted that digital exclusion exists in several forms, including social, cultural, and economic.
Page last reviewed: 10 May 2023
Next review due: 10 May 2024